Jalapeño peppers are an easy and rewarding plant for the garden. I grow mine in containers, and they do very well. In fact, the majority of my vegetable gardening is in containers now. This has the advantage of freeing up gardening space for ornamental perennials, and it allows moving the containers around to catch the sun as its path shifts over the growing season (or to move an ailing plant to a more sheltered location, since drought is our biggest summer threat).
The jalapeño is actually a fairly mild chile. It's at about 5M Scoville, compared to 200M Scoville for a habañero.  About middle of the road as hot chiles go. As it reddens it gets hotter and sweeter, so you can control those elements by when you harvest. In our area it might overwinter, depending on frost and drought.
Some growing tips:
I think of jalapeños in the kitchen as analogous to gentian in bitters. They have a kind of generic peppery quality. Sometimes that's exactly what you want. I have a plan for cooking mine that I haven't seen on any of the cooking sites I've visited is a little like Elise Bauer's approach at Simply Recipes. I'm going to slice them lengthwise to make sort of canoelike boats, which I will grill. These will be open-faced stuffed peppers. I'll probably use some cotija chesse, maybe bacon, onion, cilantro, herbs —well, I'm I'm not yet sure what all. I envision the result as a sort of stuffed jalapeño tapa. I'm giving this a try this weekend, so stayed tuned for the results.
BTW, the capsaicin in hot peppers is said to increase circulation and reduce cholesterol.
Some cooking tips:
TOM'S TIP O' THE DAY
For a simple jalapeño salsa, just combine some seeded peppers with garlic, onion, and lime juice (you can figure out your own proportions, but generally one and a half to two times as many peppers as limes) and season with salt. Use pretty much anywhere you would use salsa. Accompany with a margarita enlivened with Old Tom's Maximon Mole Bitters. Oh yeah!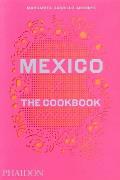 Margarita Carrillo Arronte's Mexico: The Cookbook is a great source of traditional Mexican recipes in a handsome format
Finally, a general resource that is well worth checking out is Spotlight on Chile Peppers at Science Friday (hosted by the great Ira Flatow).